06 Seeding the city
While most people do not own land in the city, seed balls are are a symbol for the battle for collective ressources and against scarcity of land, environ­mental abuse and wasted opportunities.
Prepare
To make seed balls you need equal parts of clay and garden soil, several packs of seeds, water, a small bowl and a large bowl. A spoon and egg cups can be helpful tools.
Make the seed balls
First, mix the different seeds in the small bowl. If possible, use local plant species (e. g. from the local seed bank) as they are likely to grow better. Once the seeds are thoroughly mixed, add the potting soil first, then the clay. Make sure that chunks are broken up, pieces of wood removed and the ingredients thoroughly mixed before you start adding water. Shape the resulting mixture into small balls and let them dry (i. e. in egg cups or on news­paper). Don't roll them – press them!
Plant the seed balls
After a day or two in the sun the seed balls dry out, ready to be thrown. The task is to seed the concrete cracks in the city wherever they appear and transform them with the support of plants (see Mikadze, 2015).
Possible extensions
This is only one of many ap­proaches to the challenge of appropriating both public and private spaces without coming into conflict with the law. Consider alternatives too, e. g. organise a workshop to mine the city, construct a marble run with materials the participants find on site. With an ecological-botanical ambition, seed balls may be combined with other techniques. Anderson and Minor (2008) have shown that low-cost and low-maintenance planting efforts are most supportive for urban ecosystems. Their conclusion: adopt broadcast seeding for city centres!
Who is it for
Children, early teens, and everyone who likes to touch soil
How does it work
It is a workshop in public space that invites to form seed balls and get informed on urban plants and eco-sytems.
Why, what for
It is simple, fun and educative. It promotes stakeholder involvement and inspires participants to transform their urban environment.
Who can do it and what do you need for it
Competences: supervision of children, facilitation skills
Materials: a bowl, soil, clay, water, seeds and a spoon, old newspaper or egg cups, a blanket / carpet to sit on
At what phase in a planning process
Mainly in the awareness raising phase, but can be used throughout the whole planning process
Estimated budget
Soil and clay : € 5 – € 20 (or found on site)
Crop and flower seeds: € 2 – € 10
SYNCITY Contact
Michael Anranter, office(at)oikoplus.com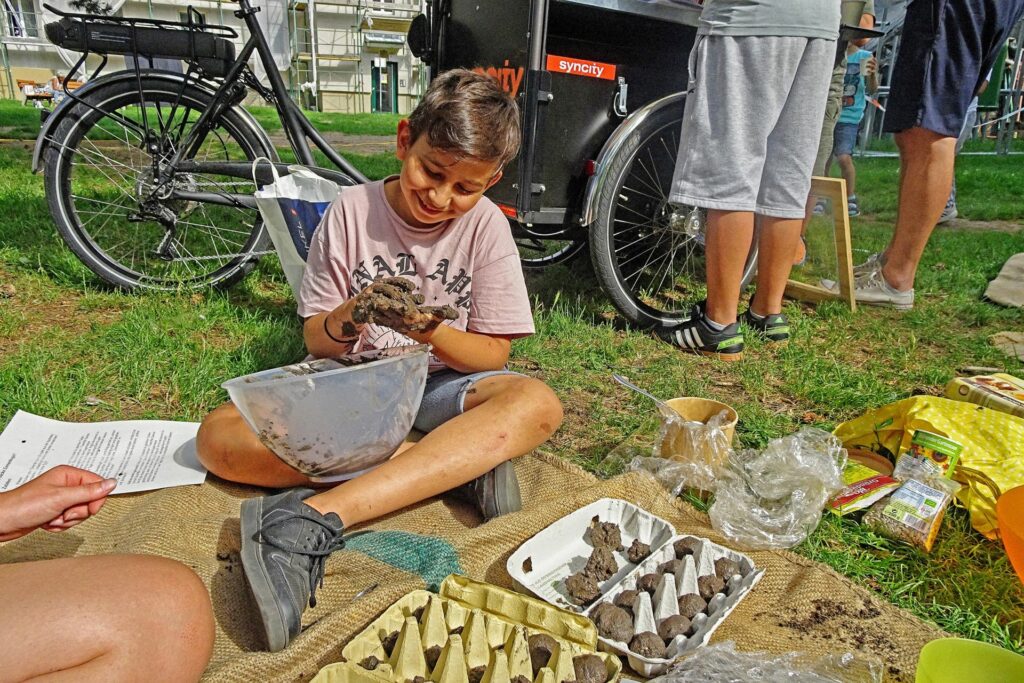 Further reading:
Anderson, Elsa C. and Emily S. Minor. 2020. 'Assessing Four Methods for Establishing Native Plants on Urban Vacant Land'. Ambio 50: 695-705.
*
Mikadze, Vladimir. 2015. 'Ephemeral Urban Landscapes of Guerrilla Gardeners: A Phenomenological Approach'. Landscape Research 40(5): 519 – 529.
*
Reynolds, Richard. 2008. On Guerrilla Gardening: A Handbook for Gardening without Permission. London: Bloomsbury.