10 Plexhibition
Plexhibition invites people to study their surround­ings and to pro­pose changes for chosen aspects of the environment. Instead of verbal articu­la­tion, ideas are drawn on the plexi­glass. The tempo­rary exhi­bition of images created stimulates con­ver­sation and debate on space.
Prepare
You need at least 4 to 5 plexiglass panels (6 mm thick) in A4 format, ideally placed in a wooden frame, as this provides stability to the plexiglass and allows the drawer to focus his or her vision.
Facilitate
Plexhibition needs a setting based on trust and creativity. It can help to create inspiration by hanging an image painted in advance. The possibility to draw freely often attracts children to participate in the first place; invite their adult companions to join and e. g. complete the picture.
Exhibit the painted panels
Exhibit them on location; drill a hole in the centre of the panels and hang them in front of a non-transparent background. Once you have drawings hanging, more and more people will come and participate. If a picture has been comprehensively discussed and the creator agrees, it may continue to serve as an attraction and inspiration for other people. If he / she does not agree, wipe away the picture with a moist towel; the plexiglass panel is then ready to be repainted.
Overcome the temporality
Plexhibition needs documentation. Take photos and videos, but above all notes on the topics discussed. Plexhibition uses chalk pens to maintain a temporary character. If you make the images permanent (e. g. by using fixative sprays or indelible markers) you may influence the way interaction is perceived. Inspiring reflections on this can be found in Akın and Kıpçak (2016).
Who is it for
Youngsters and everyone who prefers drawing to writing
How does it work
People use a transparent plexiglass panel, hold it in front of an interesting background and augment what they see with their own drawings.
Why, what for
It is a creative and simple way to express desired change or spatial associations. The panels can be re-used. The method works best when the cityscape may be altered (e. g. brownfields).
Who can do it and what you need for it
Competences: skills and tools to cut plexiglass and construct wooden frames for it; facilitator skills
Materials: plexiglass, wood, chalk pens, a moist sponge
At what phase in a planning process
Best used in the awareness-raising phase
Estimated budget
Plexiglass panels incl. wooden frame: up to € 40
chalk pens: € 3 – € 5, Cleaning sponge: € 1
Contact:
Michael Anranter, office(at)oikoplus.com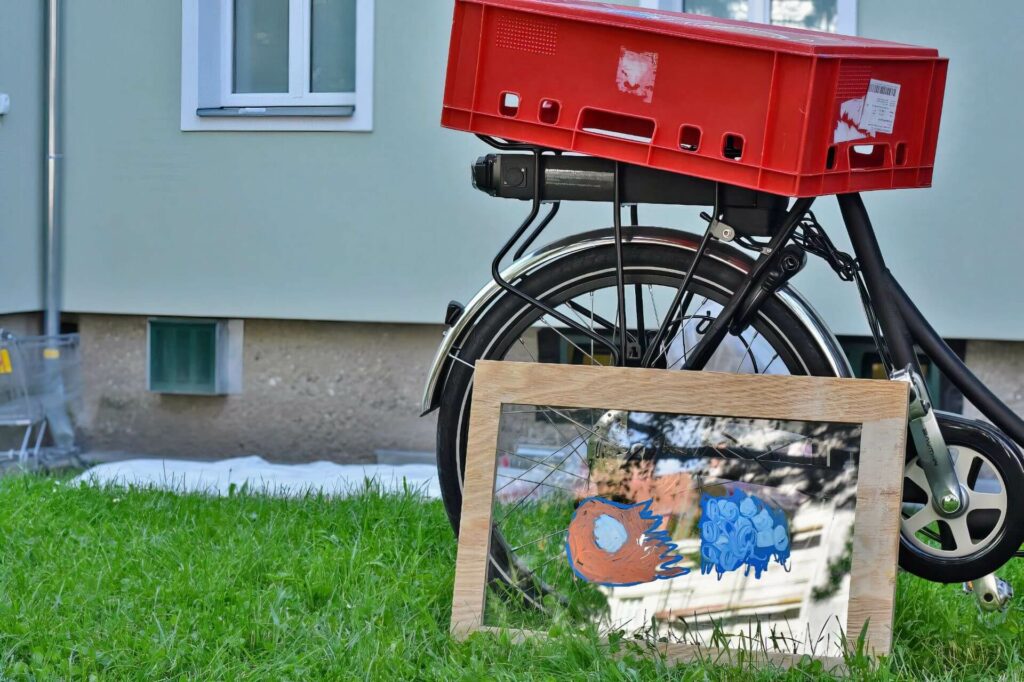 Further reading:
Akın, Canan and N. Sezin Kıpçak. 2016. 'Art in the Age of Digital Reproduction: Reconsidering Benjamn's Aura in "Art of Bansky"'. Journal of Communication and Computer 13: 153-158.
*
Mygind, Lærke, Hällman, Anne K. and Peter Bentsen. 2015. 'Bridging Gaps between Intentions and Realities: A Review of Participa­tory Exhibition Development in Museums'. Museum Management and Curatorship 30(2): 117– 137.